Unlocking the power of AI for a rapidly scaling technology group
AI has the ability to change our lives for the better, so why is it so misunderstood?
Exponential growth
G42 is a unique technology group that has AI and cloud at its core. In 2018 it started with a mission to bring AI to the world but with rapid growth and scale it faced increasing complexity.

With more capabilities, more industries, more clients and even more partnerships materializing in a very short timeframe, G42's lack of efficient structure was stifling innovation and slowing down decision-making.

With more talent joining the company than ever before it was apparent the culture needed to be captured and codified to ensure growth didn't stump creativity.
Services
Brand strategy, Brand architecture, Verbal identity, Visual identity, Experiential design
Meaningful impact
G42 had to elevate itself above the technology to champion AI in ways that would attract meaningful partnerships and accelerate its impact in the world.

Our task was to redefine what G42 stands for in the world and how it connects with people, from employees and partners to clients, with clarity and meaning.

We worked closely with the G42 team to discover the opportunities for the brand, and together shaped the next chapter of G42 as it drives forward in its efforts to turn AI into a super-utility.
Brand strategy
Emerging themes
Our insights uncovered some emerging themes which were very directional in terms of the brand we needed to create. As a start-up, they had a unique energy and entrepreneurial spirit we knew had to be bottled up and preserved. We also learned that AI isn't something to fear but the next frontier of human progress, very much driven by Founder and CEO Peng Xiao.
Inventing a better everyday
At the core of the G42 brand platform is its purpose to invent a better everyday. A perfect balance of G42's innovative approach to tech as well as its mission to apply its expertise to everyday life for the better.
We crafted a proposition to articulate G42's value to clients and partners and the most fundamental element of the strategy was defining brand beliefs and behaviours. By articulating and codifying these elements into the brand platform we were able to capture the essence of G42 and help retain the best parts of an evolving culture to ensure the brand doesn't stray too far from its purpose.
Most importantly, we defined the organising principles of the brand architecture to tell a story of impact, enabling G42 to cut across capabilities and industries to demonstrate the holistic value of its visionary AI and cloud expertise.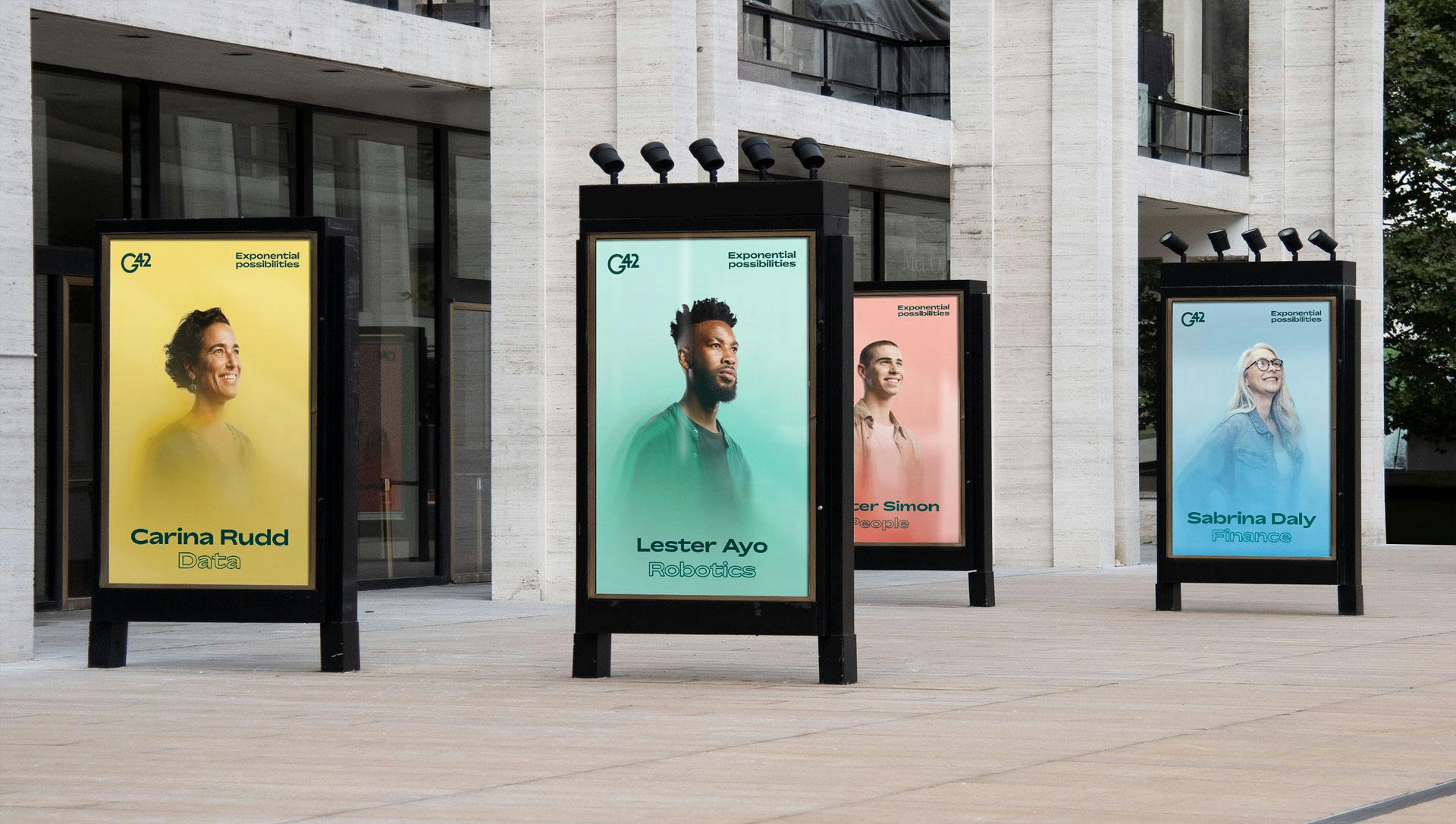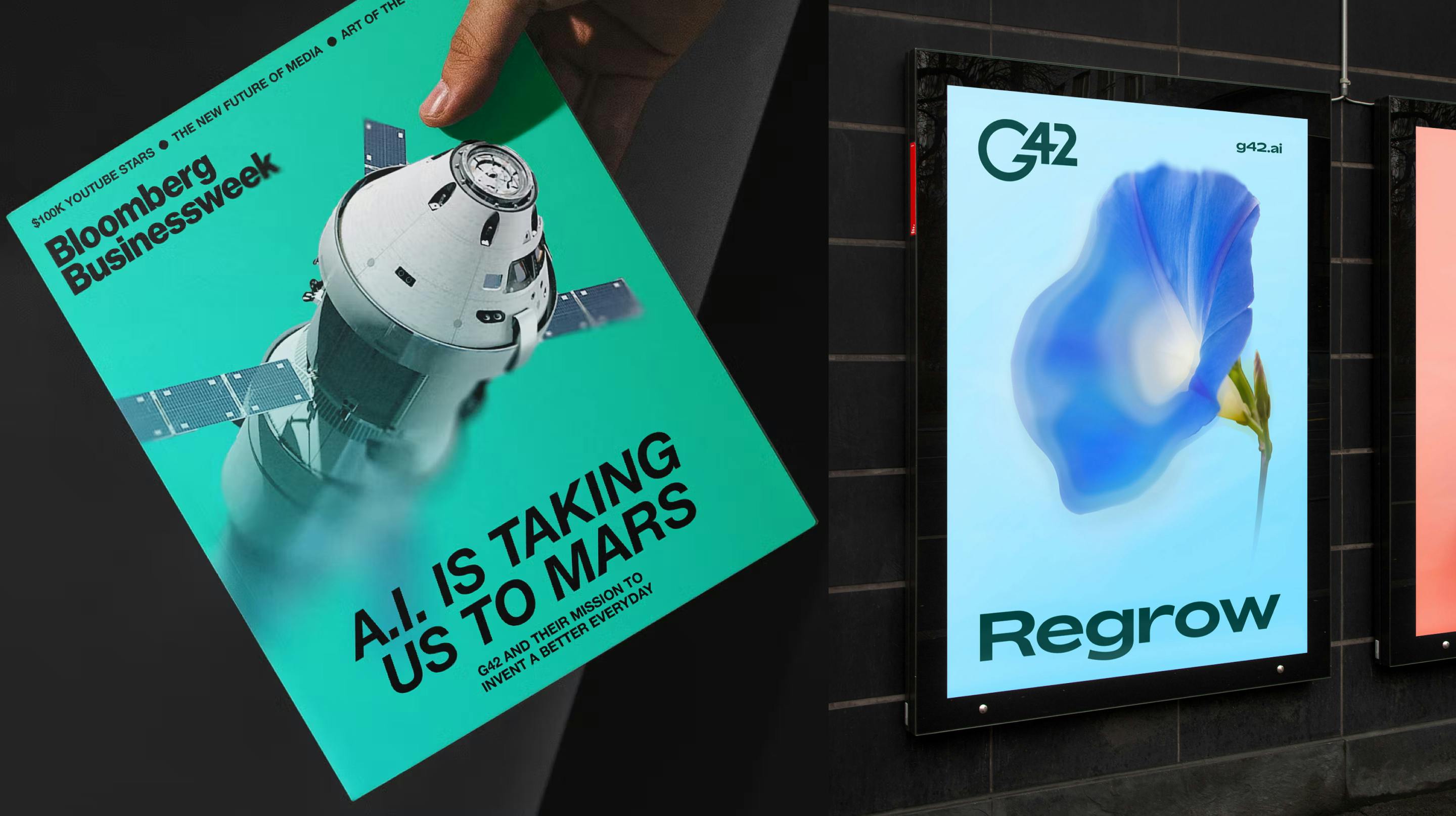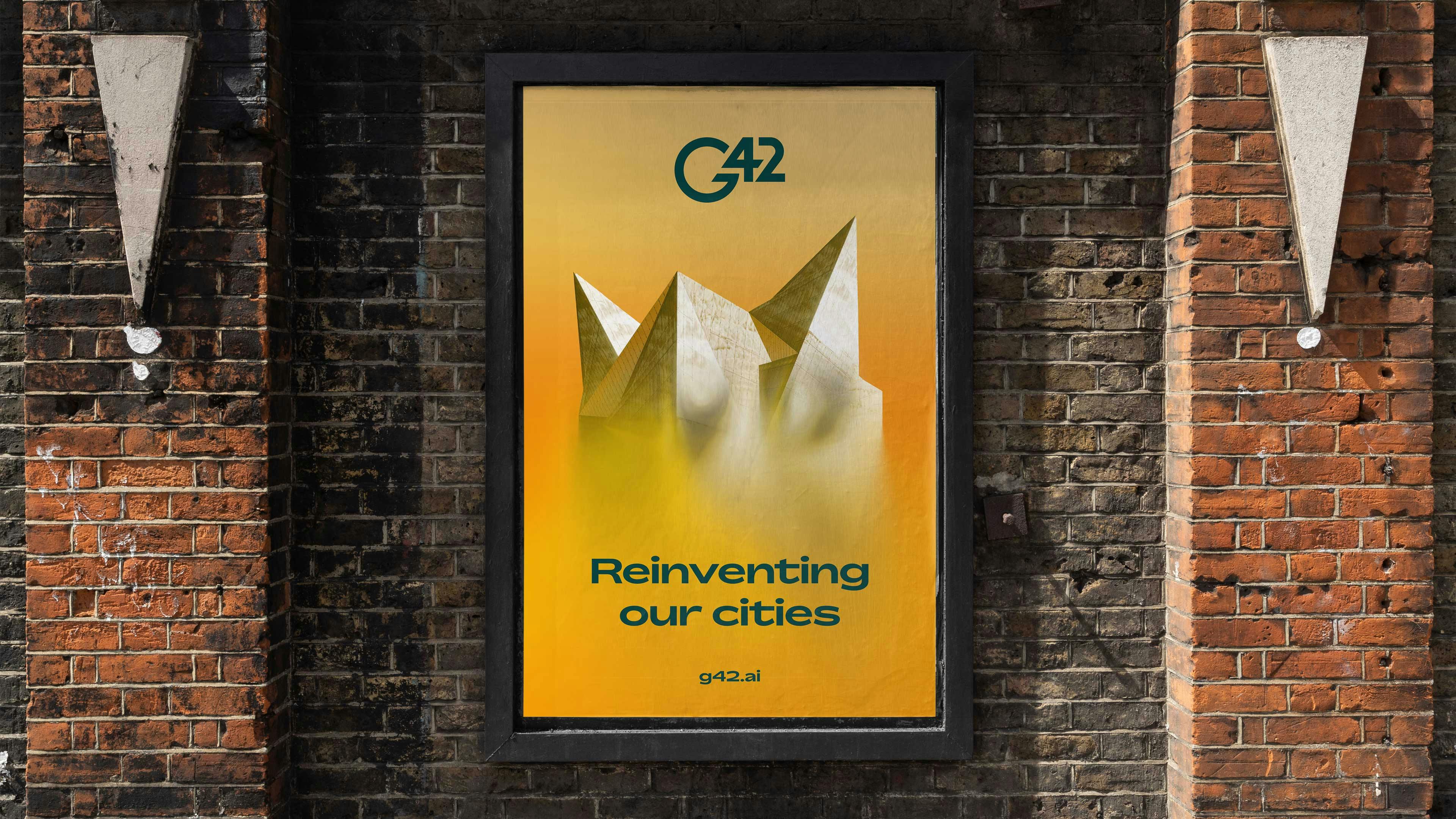 The story of emergence
The problem with technology businesses, especially with goals as high as G42, is how do you communicate what they do?
To do this, we came up with the visual idea of 'emergence'.
It's a simple but powerful concept. We show what AI actually enables, creates and makes richer. The self-driving cars, the architecture of tomorrow, the regrowth of endangered wildlife or using data to be at the athletes at the top of their game.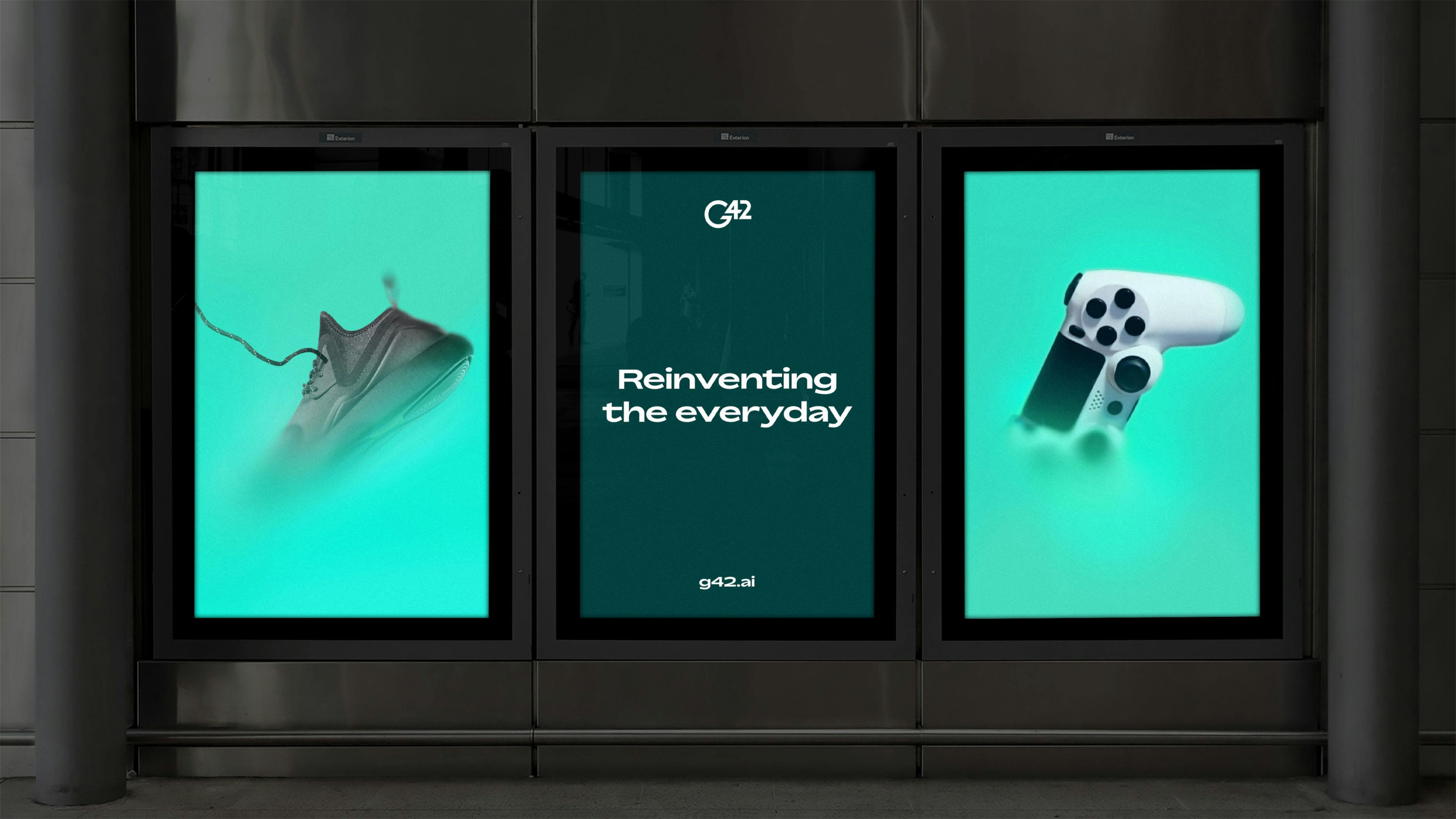 A systematic brand
We wanted to develop a colour palette that not only represented G42, but the world it is helping create. In the spirit of machine learning, we used algorithms to scan satellite images of the earth and extracted the most common and vibrant hues. Then, with human tinkering, we defined a set of colours that was distinctly G42.
To enable G42 to create communications efficiently and effortlessly, we created a set of 'emergent textures' that let G42 be recognisable anywhere. Based on the revised logo, they show two forms emerging and connecting.
Evolving the logo
Due to the considerable investments G42 were making through global sponsorships which was increasing the visibility of the brand, we decided to retain the existing logo but evolve it slightly to modernise and humanise it. This meant making it less angled, less sharp and more ergonomic.
Guidance for growing business
G42 are rapidly growing and expanding at scale. They are hiring new employees, creating new business ventures and working with a variety of sponsorship partners.
It was important to create clear and easy to use guidelines, giving them the best in class examples as well as practical tips on how to use the new brand, internally and externally.
Showtime
In parallel with the rebrand, G42 became an official AI Enablement Premier Partner of Dubai Expo 2020, an annual global event that promotes innovation for good. We were fortunate to get to work closely with G42 to create an immersive show for the 360° Al Wasl dome. Partnering with Pixel Artworks, we used projection mapping to visualise a journey from inside a human cell to outer space. At each step of the journey, the audience saw recognisable scenes in new ways, communicating the mind-bending potential of AI and linking the capabilities of G42. The film was shown 14 times over the 182 days of EXPO 2020 which attracted 24 million visitors from all over the world.
Behind the scenes
To tell the story of the rebrand, we created a behind the scenes film, where Rana (Executive Strategy Director) and Darren (Partner and Executive Creative Director) talk through the project in detail.
Working with Re as a single, cohesive team helped us navigate through the process and key decisive moments with confidence and arrive at our renewed brand which is anchored on our purpose. It will define the story of G42 and its people and stakeholders for years to come.
Faheem Ahmed, Group Chief Marketing & Communications Officer